On September 19 2019, The Drawing Center will celebrate its annual Benefit Auction + Party with an evening of music, cocktails, and a silent auction featuring works generously donated by over forty leading artists. Funds raised through the Benefit Auction + Party provide crucial support for The Drawing Center's ambitious roster of exhibitions, publications, education initiatives, and public programs.

Tickets are available now for $175. To purchase a ticket please click here, or contact Rebecca Brickman, Director of Development, at 212.219.2166 x217 or tshi@drawingcenter.org to buy tickets.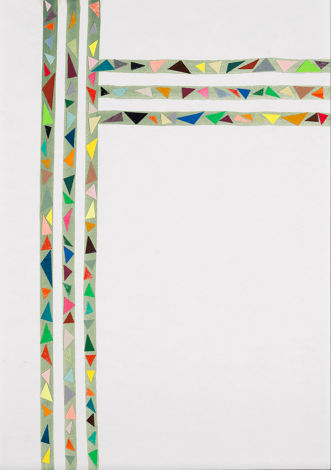 London-based artist Tomma Abts (b. 1967, Kiel, Germany) has a remarkably strict regimen: since 1998, she has remained committed to producing acrylic and oil-on-canvas works, mainly in the same 19 x 15 inch portrait format. Within a series of self-imposed parameters, Abts has developed an ever-evolving, additive process that employs basic shapes, visually illogical highlights, and shadows. Once a painting is complete, Abts gives it an androgynous proper name. Like her paintings, Abts's drawings feature abstract geometric compositions that play with a distinctive palette. Never preparatory for her paintings, Abts' works on paper form a parallel body of work to her remarkably consistent painting practice.
Tomma Abts, "Untitled," 2008. Oil paint, watercolor, ink, collage on paper 11 1/2 x 8 1/4 inches (unframed). Courtesy of the artist and greengrassi, London. Photograph by Marcus Leith.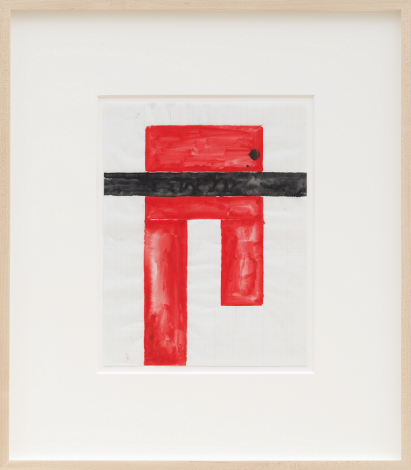 New York–based artist Joe Bradley (b. 1975, Kittery, Maine) says he almost became a cartoonist before deciding to be a painter. Indeed, his fascination with comics comes through in his drawings and in the powerful, intuitive abstract paintings for which he is known. Inspired by artists from Cy Twombly to R. Crumb, and a student of science fiction as well as art history, Bradley embraces a self-described "intentionally shoddy" slacker aesthetic in some work, while he executes careful compositions of emotion-laden brushstrokes in other series. Bradley draws extensively and his series on paper often mirror groups of paintings with similar motifs. He has created gouaches that have been presented with his monochrome multi-canvases, and calligraphic pencil drawings that bring to mind his Schmagoo series of raw canvases that present a single image outlined in charcoal.
Joe Bradley, "Untitled," 2006–2007. Gouache on paper, 19 3/4 x 17 1/4 x 1 1/2 inches (framed). Courtesy of the artist.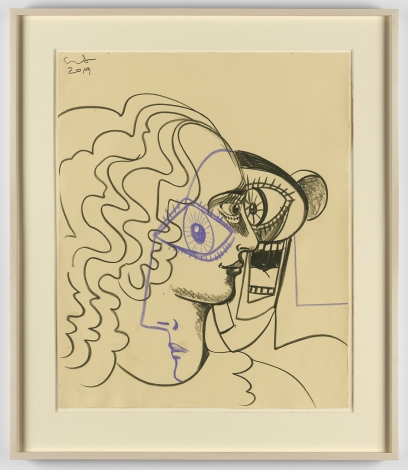 George Condo (b. 1957, Concord, New Hampshire) is an American painter known for his self-described "psychological Cubism" and "artificial realism." Specializing in fractured portraiture, Condo is interested in re-contextualizing Old Master paintings in contemporary American culture, a quest which has resulted in a cast of characters that are striking in their macabre and unsettling qualities. An instrumental part of the 1980s East Village art scene, Condo's work continues to be popular, and can be seen in various pop culture manifestations, such as the cover art for Kanye West's 2010 record album.
This work will be offered at Sotheby's "Contemporary Curated" auction in New York at 10:00am on September 26, 2019. Proceeds will go to The Drawing Center. For more information, please contact Saara Pritchard, Saara.Pritchard@sothebys.com.
George Condo, "Multiple Personalities," 2019. Aquarelle crayon on paper, 28 x 24 1/4 inches (unframed) / 38 1/2 x 29 1/2 x 1 1/2 inches (framed). Courtesy of the artist. Photograph by Martin Parsekian.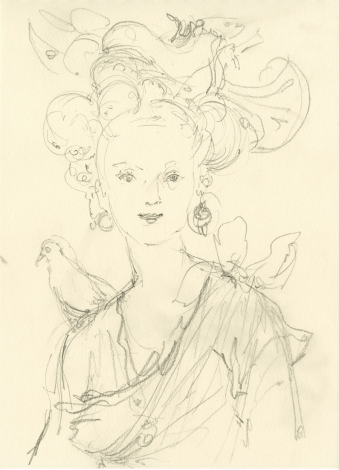 New York–based painter John Currin (b. 1962, Boulder, CO) produces works that are rooted in a potent mixture of art historical tradition, eroticism, and kitsch. He embraces certain "trashiness" in his almost perverse depictions of women, while employing his knowledge of painterly technique to pose questions about sexual and social taboos. Currin's drawings in ink, pencil, and gouache are a crucial part of his artistic practice. Character studies of figures that often reoccur in his paintings, Currin's Old Master draftsmanship stands out among his peers, making his drawings as prized as his paintings.
John Currin, "Untitled," 2015. Pencil on paper. 7 5/8 x 6 inches. Courtesy Gagosian.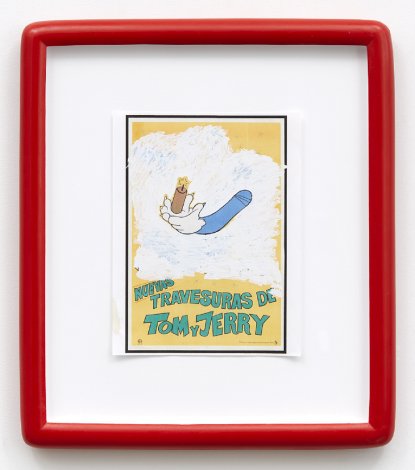 Alex Da Corte (b. 1980, Camden, NJ) is a Philadelphia-based artist whose practice involves detaching objects from their original functions to lend them new potential. Working with large-scale installations that often include wall-based works, floor pieces, sculptures, lights, and even scents, Da Corte is interested in deconstructing a pop-art aesthetic to reveal the humor and macabre elements beneath. In working with and dissecting quotidian objects, Da Corte seeks to access a state of delusion where logic is not present.
Alex Da Corte, "Untitled," 2019. Acrylic and inkjet on paper. 11 x 8 1/2 inches (unframed). Courtesy of the artist, Karma, New York, and Sadie Coles HQ, London.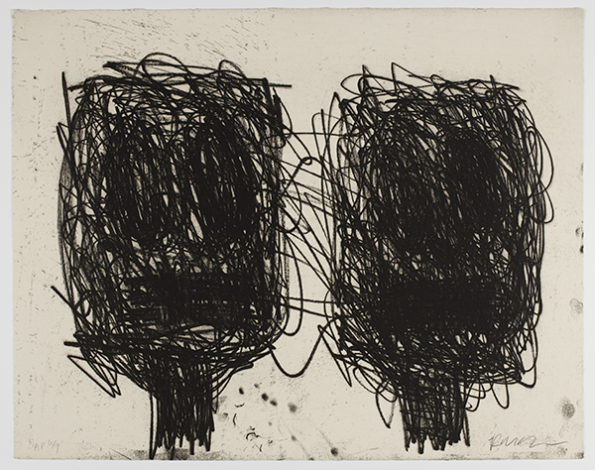 New York–based artist Rashid Johnson (b. 1977, Chicago, Illinois), has long sought to redefine and reinterpret changing notions of blackness through a language of carefully selected materials. Often making use of what he calls "Afrocentric" materials—like black soap and shea butter—Johnson is known for arranging and repurposing these elements and objects to express the contemporary African American experience.
Rashid Johnson, "Untitled," 2015. Softground etching printed in black on Somerset velvet antique white, 14 x 17 3/4 inches (unframed). Courtesy of the artist and Hauser & Wirth Photograph by Martin Parsekian.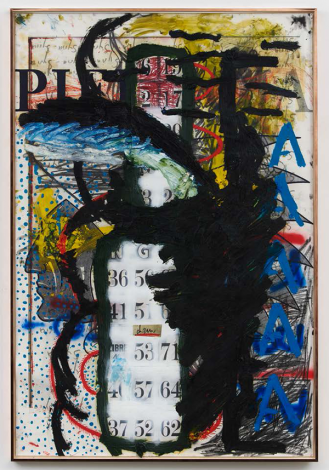 Based in London, Oscar Murillo (b. 1986, Valle del Cauca, Colombia) is a contemporary painter and installation artist. He frequently uses recycled canvas and drop cloths collected from his studio, which, when stitched together, make the supports for his paintings. He covers these messily bespoke surfaces with thick paint, looping lines, and the occasional text. Throughout his practice is an emphasis on the notion of globalization and the multiple ways in which ideas, languages, and everyday items are displaced circulated, and increasingly intermingled.
Oscar Murillo, "Manifestation of Loss, 34," 2018. Oil, spray paint, graphite, and silkscreen on paper in artist's copper frame, 61 7/8 x 41 3/4 x 1 5/8 inches (framed). Courtesy of the artist and David Zwirner.
Chris Ofili (b. 1968, Manchester, United Kingdom) is a British, Brooklyn and Trinidad-based painter who makes use of vibrant colors and robust textures to create fantastic and provocative contemporary allegories of sex, love, and racial identity. Ofili's work is an exercise in duality, merging figuration with abstraction and the historical with the contemporary. He captured the interest of the art world and the general public in the 1990s with his multi-layered paintings coated in glitter and cuttings from erotic magazines and decorated with beaded balls of elephant dung. He has since developed a practice that encompasses paintings as well as large-scale murals, sets, and costume designs. Since the start of his career, he has created large bodies of drawings and gouaches that explore single motifs or themes that sometimes, but not always, reoccur in his paintings. His latest series of works on paper takes as its theme the story of Calypso from Homer's Odyssey.
Chris Ofili, "Night Kiss 3," 2019. Watercolor, pastel, gold leaf, and charcoal on paper. 10 1/4 x 15 1/2 inches (unframed) / 17 1/4 x 22 3/8 x 1 1/2 inches (framed) Signed, dated, and titled on verso. Courtesy of the artist and David Zwirner, New York/London/Hong Kong © Chris Ofili Photograph by Kerry McFate.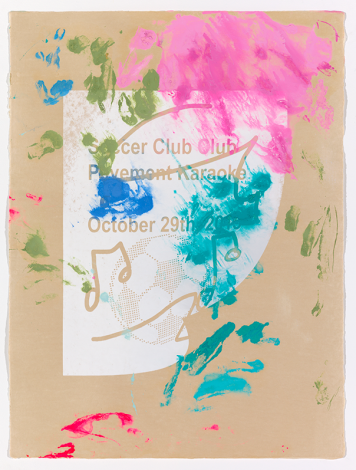 Laura Owens (b. 1970, Euclid, Ohio) is a Los Angeles–based painter who came to prominence in the 1990s with paintings, drawings, watercolors, and artist's books that often took ornament as their focus, while encompassing a breadth of references from art history and popular culture. Over the past decade, she has moved away from figurative imagery towards a more abstract aesthetic, incorporating newspaper clippings, posters, grids and most significantly, the motif of the brushstroke, often depicted digitally on her canvases.
Laura Owens, "Untitled," 2015.
Flashe and screen-printing ink on paper. 30 1/4 x 22 1/2 inches (unframed) / 33 3/16 x 24 15/16 x 1 1/2 inches (framed) Signed verso. Courtesy of the artist; Gavin Brown's enterprise, New York, Rome; Sadie Coles HQ, London; and Galerie Gisela Capitain, Cologne.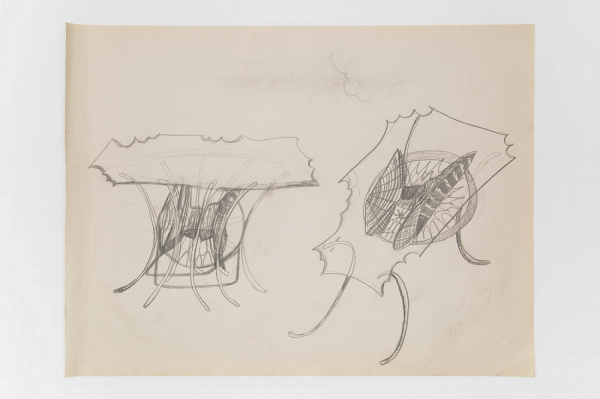 Jessi Reaves (b. 1986, Portland, Oregon) is a New York–based artist known for sculptures that also operate as furniture. After graduating with a degree in painting from RISD, Reaves moved to New York in 2010, where she worked as an upholsterer. Upholstery ultimately became the starting point for her tactile, gnarly approach to sculpture. Although Reaves's work has antecedents in masters such as Isamu Noguchi and Charles and Ray Eames, she rejects their elegant finishes for a more provisional, almost dystopian approach.
Jessi Reaves, "Untitled," 2018. Graphite on paper, 22 x 28 x 2 inches (framed). Courtesy of the artist and Bridget Donahue, New York.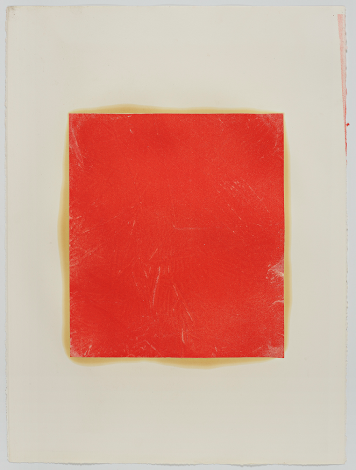 New York–based artist Rudolf Stingel (b. 1956, Merano, Italy) is a conceptual artist known to employ a wide range of unlikely materials such as Styrofoam, carpet, and rubber in work that aims to disrupt the concept of painting, implicating the viewer in this process. He plays with ideas of alteration, creation, and aesthetics as a relational experience. Perhaps the best-known examples include his covering entire exhibition spaces with carpet, or creating instruction manuals for the creation of his pieces. Stingel is also known for seemingly more traditional photorealistic paintings of himself and of his former art dealer, the legendary Paula Cooper—although even these retain a subversive element in their disruption of the viewer's experience of the art object.
Rudolf Stingel, "Untitled," 1997. Oil and enamel on paper 30 x 22 inches (unframed) / 32 x 24 1/4 x 1 1/2 inches (framed). Courtesy of the artist.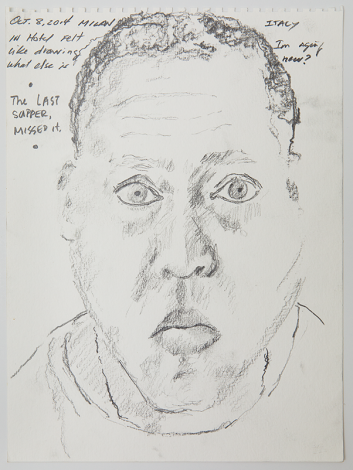 Based in Los Angeles, Henry Taylor (b. 1958, Ventura, California) is a contemporary painter known for his loose, quick portraits of people—friends and family, homeless strangers, and celebrities. His works, sometimes painted on canvas, sometimes on unusual surfaces like cereal boxes and cigarette packs, often have a certain frenetic energy, which is materialized in unfinished gestures that give some of his works a radically modern look. Informed by his previous career as a psychiatric nurse, Taylor's portraiture exudes warmth, empathy, and a frank, curious interest in each individual sitter.
Henry Taylor, "Untitled (Self Portrait in Milan)," 2014. Graphite on paper, 12 x 9 inches (unframed). Courtesy of the artist and Blum & Poe, Los Angeles/New York/Tokyo.