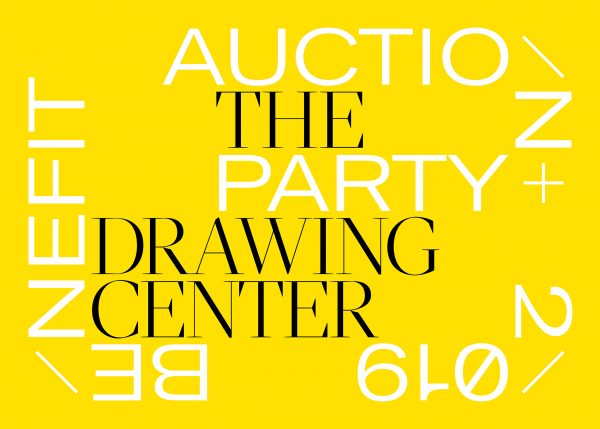 2019 Benefit Auction + Party
Thursday, September 19
6:30 – 9:30pm
at The Drawing Center
35 Wooster Street, New York City


The Drawing Center will host its 2019 Benefit Auction + Party on Thursday, September 19. The evening will include cocktails, a live DJ, festive snacks, and a silent auction featuring works on paper generously donated by over 40 prominent artists, both emerging and well-established.


Funds raised though this event will provide crucial support to the upcoming year of exhibitions and programs at The Drawing Center. And what a year it will be with The Pencil Is a Key: Drawings by Incarcerated Artists opening in October, followed by monographic exhibitions of Curtis Talwst Santiago, Guo Fengyi, and Huguette Caland. Next Spring, we will also reprise Bellwethers: The Culture of Controversy, our new, and wildly successful speaking series that convenes writers, cultural critics, and artists to examine a timely indicator, word, or phrase emblematic of a polemical topic of our moment.



Purchase a ticket today and support the only nonprofit arts institution in the United States dedicated entirely to the medium of drawing!



PARTICIPATING ARTISTS
Tomma Abts
Richard Aldrich
Noel W Anderson
Kamrooz Aram
Tauba Auerbach
Joe Bradley
George Condo
John Currin
Alex Da Corte
Trisha Donnelly
Leonardo Drew
Isa Genzken
John Giorno
Maryam Hoseini
Rashid Johnson
Anna K.E.
Brad Kahlhamer
Fernanda Laguna
Bill Lynch
Calvin Marcus
Park McArthur
Hugo McCloud
Troy Michie
Jeanette Mundt
Oscar Murillo
Chris Ofili
Laura Owens
Maia Cruz Palileo
Adam Pendleton
Ronny Quevedo
Jessi Reaves
Ugo Rondinone
Alan Shields
Josh Smith
Cauleen Smith
Rudolf Stingel
Ryan Sullivan
Henry Taylor
Johanna Unzueta
Cecilia Vicuña
Adrián Villar Rojas
Mary Weatherford
Michael Williams
Matthew Wong



HOST COMMITTEE
Frances Beatty Adler
Dita Amory
Franklin Boyd
James Keith Brown and Eric Diefenbach 
Valentina Castellani
Andrea Crane
Olivia Douglas 
Lonti Ebers
Kathryn Gile
Stacey and Rob Goergen
Amy Gold
Jane Hait
Hilary Hatch
Harry Tappan Heher and Jean-Edouard van Praet d'Amerloo
Michèle Gerber Klein
Rhiannon Kubicka
Gregory R. Miller and Michael Wiener
Marco Perego-Saldana and Zoe Saldana-Perego
Nancy Delman Portnoy
Nathaniel Mary Quinn and Donna Augustin-Quinn
Loring Randolph
Sophie Olympia Riese
Fiona and Eric Rudin
Jane Dresner Sadaka and Ned Sadaka
Arlene Shechet and Mark Epstein
Sotheby's
Joyce Siegel
Galia Meiri Stawski and Axel Stawski
Alice Tisch
Barbara Toll
Taylor Trabulus and Will Sheldon



For more information, please contact Tiffany Shi, Development Associate, at 212.219.2166 x216 or tshi@drawingcenter.org.