It's a quarter past seven on Wednesday night at Bat Haus Coworking Space, and already people are arriving 45 minutes early to grab a coveted seat at the drink and draw—stylized as "Drink N' Draw" —hosted weekly at Bat Haus.

By the time 8:00 pm rolls around and the model starts short poses, there are people packed into every conceivable nook and cranny (and onto every stair step) in the room. They're all balancing sketchbooks and cans of beer in laps, patiently contorting their necks to get a decent view of the model. I Wanna Be Your Dog by The Stooges blares in the foreground, out of a speaker that looks like it's hanging by a thread from the ceiling. The collective vibe in the room is electric.

I sat down with Joel Morrison, host of Drink N' Draw since 2010; Cody Sullivan, co-founder of Bat Haus where Drink N' Draw now resides; and Patrick Keefe, Drink N' Draw regular of 10 years. They took me through Drink N' Draw's humble beginnings, how it almost fell apart with the closing of the 3rd Ward, and how it survived, thanks to the thriving community that carries on Drink N' Draw's legacy today and beyond.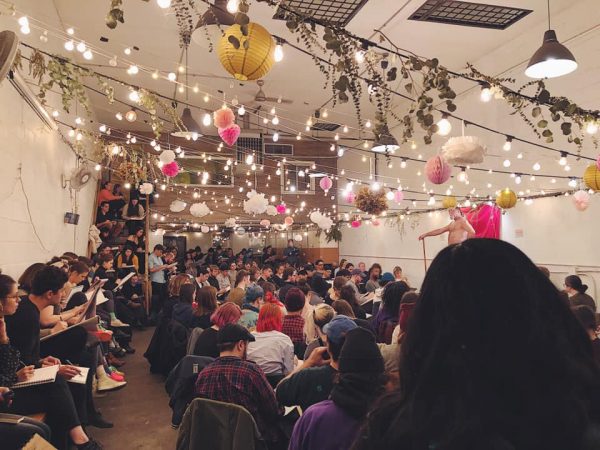 Tiffany Shi: I just want to say it's 7:23 and you've got 20 people in here already.
Joel Morrison: It's going to get packed. We're gonna crush it tonight, I already feel it.

TS: Do you think you'll run out of chairs?

JM: We do. We've had points where people are actually standing outside drawing through the window. We tell them at the door, 'we're pretty packed' and they don't even care! They're like, 'I'm here, it's worth my time, so whatever.' And we can't say no to that.

TS: Do you get a lot of regular attendees here?

JM: Yeah, there's a lot of regulars. I would say we average about 130 to 140 a week. Of that, probably 50 of them are regulars.

People realize this is a fun, alternative thing to do on a weeknight. We have sponsorship with Brooklyn Brewery, and we charge $10 for unlimited beers, so after two drinks it's basically paid for. And then we have the experience of figure drawing. There's something to the energy of it. You get to meet people, and there's a very fun social non-pressure aspect to it because there's a focus.

Drink N' Draw at Bat Haus originally began at the 3rd Ward—the one that started them all.

JM: I'll just say it—we're the number one best drink and draw. We were the original one that spread to all these other places that are starting their own. Which is cool, the more the merrier.

The 3rd Ward Drink N' Draw started when it was just a fun little club of dedicated people who really liked drinking and figure drawing. I had a studio next to the gentleman who started it, Adam Collison. He asked me to take over running Drink N' Draw after he started opening bars and they became a real viable business for him. I thought, yeah cool, why not. It's a little extra something. It paid for my studio.

I took [Drink N' Draw] over from [Collison] in 2010, and at the time the 3rd Ward was doing a lot of extracurricular classes and activities. Within a year or so, it grew from this little teeny club of 25 to 30 people that were congregating weekly to over 100 people!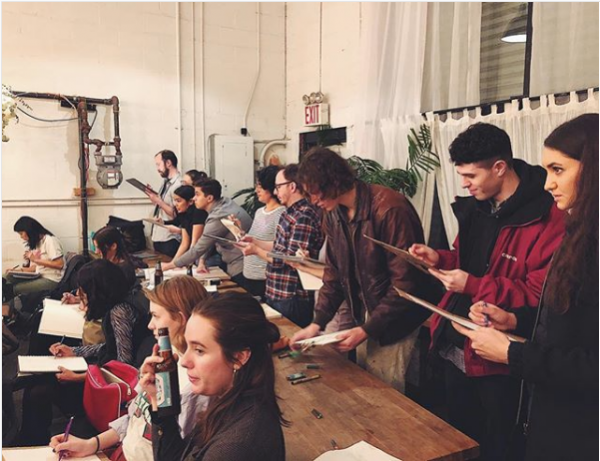 Drink N' Draw nearly ended when the 3rd Ward shut down in 2013. It turns out this displaced artist community wasn't ready to let it go.

JM: There was a moment when the 3rd Ward closed and I was going to let it go because I had other things going on and didn't need it as a supplement anymore. There was a core of people left over from the 3rd Ward days who were like, we need this, we miss this. I actually tried to help them start their own. And I was seeing it: at one point they couldn't get the beer and another time the model canceled and it was kind of painful. So I thought, maybe I can just keep this going.

At the time, the 3rd Ward were doing a number of things where they were having meetups for people that were displaced from it. Cody and Natalie (Natalie Chan, co-founder of Bat Haus with Cody Sullivan) were going to one of the events.

Cody Sullivan: We almost didn't go.

TS: How did you find each other?

JM: I saw on Facebook they were going to this event, and then I saw that they worked at this place called Bat Haus. And I went to the website there, saw the photos and the Facebook page and I was like, hey I can maybe do something there.

CS: That was in the first year, right?

JM: 2013. October 2013 is when the 3rd Ward went under.

CS: It was within the first year of us opening. I had never gone to Drink n Draw at 3rd Ward but I had known about it for years before that. It was a nice addition. We were just starting out, we didn't have many members. We were going to see if there were any members who wanted to work for us, and Joel surprised us.

JM: Well I went and thought, 'I gotta find these guys'. I totally stalked them.

It was at the Brooklyn Brewery of all places and I saw them and thought, that's them! When they cut for a break I beelined it to [Cody and Natalie] like, 'hey I know you guys run this coworking space, are you interested in doing Drink n Draw?' and they were both like 'What? Who are you?'.

We met, I looked at the space, and I knew it would be perfect. They trusted it, and we just rolled with it. And here we are, five—six! —years later. We've done it every Wednesday night save for, on average, we hit 48 of the 52 weeks a year. Pretty consistent. People know it's happening. I think that's one of the charms of it.

This consistency has been the key to retaining 50–60 regulars a week, some of whom go back to the 3rd Ward days.

JM: There are a few [regulars]. Patrick, I've seen him every week seemingly for the last 9 years of my life. Now I know his wife and his kids.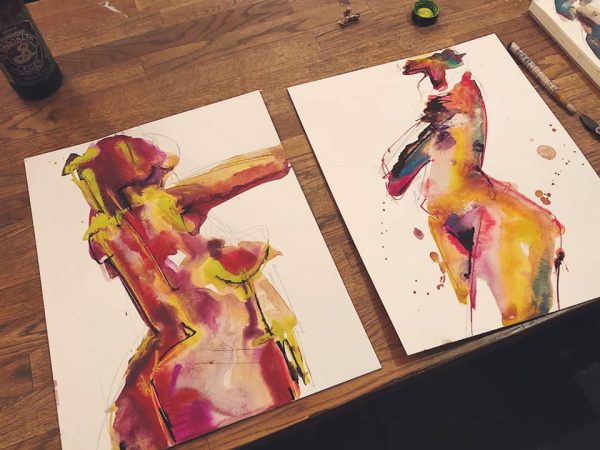 Later I talked to Patrick:

TS: How long have you been coming to Drink n Draw?

Patrick Keefe: Well, since it started. I used to be at 3rd Ward. So I've been coming for about 10 years. And I very rarely miss a week. I have about 15,000 paintings that I've done at Drink N' Draw alone.

It's a great community. I've been coming for so long that I know most of the people that are at all regular. So every week I get to see dozens of friends of mine, we talk about art, check up on each other. It's the biggest reason why I keep coming back to this particular group.

From 3rd Ward to Bat Haus, the love of drawing and drinking is what connected this community and enabled Drink N' Draw to transcend changing time and space. Credit is due in no small part to Joel Morrison's tireless dedication as fearless Drink N' Draw leader. After 10 years, it's rare to find a creative community that remains tight-knit, yet welcoming to newcomers and utterly unpretentious. Driven by its core of regulars and backed with the resources of Bat Haus and Brooklyn Brewery, Drink N' Draw is here to stay.

TS: Final question: what would you recommend to someone going to Drink n Draw for the first time?

CS: If someone's interested, they're usually thinking, Oh I don't draw that well. I'll say It's very low key, there's tons of people who are on the same level. It's kind of nice to see people drink and have fun and socialize while drawing. Then you can see people do some nice work.

JM: It's not about you judging your drawings or feeling like you have to make this amazing drawing. It's about enjoying drawing! If drinking helps do that, that's fine. If you enjoy making stick figures, that's awesome. I've been in the City over 20 years, and when I came here one of the things I loved about it was how there were so many interesting things to do that don't have to cost money. I wanted to embody something that's enjoyable to do in New York. It's unique, and it's fun, and it's always quality. I think people respect that a lot.

PK: Well, it's really just about having fun. This isn't a very serious group. There's no real instruction. So, if you're coming the first time I wouldn't be afraid to not be good because there's all levels of people. There's a lot of first timers that come here. Don't compare yourself against somebody else; just compare yourself against yourself, and your own progress.

—Tiffany Shi, Visitor Services Associate, The Drawing Center
Drink N' Draw is held at Bat Haus every Wednesday 8:00-10:30 pm. Admission is $10. For more information you can visit the Bat Haus website.