Currently at Pioneer Works, Solid Light Works: Anthony McCall includes six of the multimedia artist Anthony McCall's "solid light works," a series of film installations that he began in 1973. The show, which includes both vertical and horizontal installations, represents the artist's first solo exhibition at a New York institution.
Exhibited across three spaces, McCall's solid light works are shown in complete darkness. Four vertical works organized in a line formation occupy Pioneer Works' spacious main hall; from a height of more than thirty feet, various lines are projected onto the floor, creating a three-dimensional manifestation of a line drawing. Two horizontal works project similarly abstract designs onto a wall in the adjacent galleries. A haze-filled environment augments all six installations, lending the sculptural works a temporal quality.
McCall was born in 1946 in St. Paul's Cray, England, and he was a major figure in the London Film-maker's Co-operative, a film workshop established in 1966. In 1973, McCall began his series of solid light works with Line Describing a Cone, in which a three-dimensional "cone" is realized in space with projected light. In an interview with Frieze, McCall reflects on how an earlier film of his inspired the solid light work: "After making Landscape of Fire (1972) I began to wonder if it would be possible to make a film that only existed at the moment of projection, in a present tense shared with the audience. This idea led to Line Describing a Cone." He later took a twenty-year hiatus from the art world to pursue graphic design, but eventually returned to his solid light works in the late 1990s.
McCall defines the series as multidisciplinary in nature, involving aspects of drawing, sculpture, and cinema. The line drawings that serve as the genesis of the installations reflect his various influences that, according to the artist, "deal with the occupation of three-dimensional space and with things that change over time." These include drawing types such as architectural sections, engineering wire-frame renderings, and musical scores.
When asked if the vertical and horizontal orientations of his works effect how viewers engage with them, McCall distinguished the horizontal works by noting their strong relationship to traditional cinema, while acknowledging that the vertical works more closely resemble sculpture. He then added, "The experience of a horizontal work is something like being immersed in water; a vertical work, on the other hand, towering above your head, can be walked all around, and therefore can be occupied."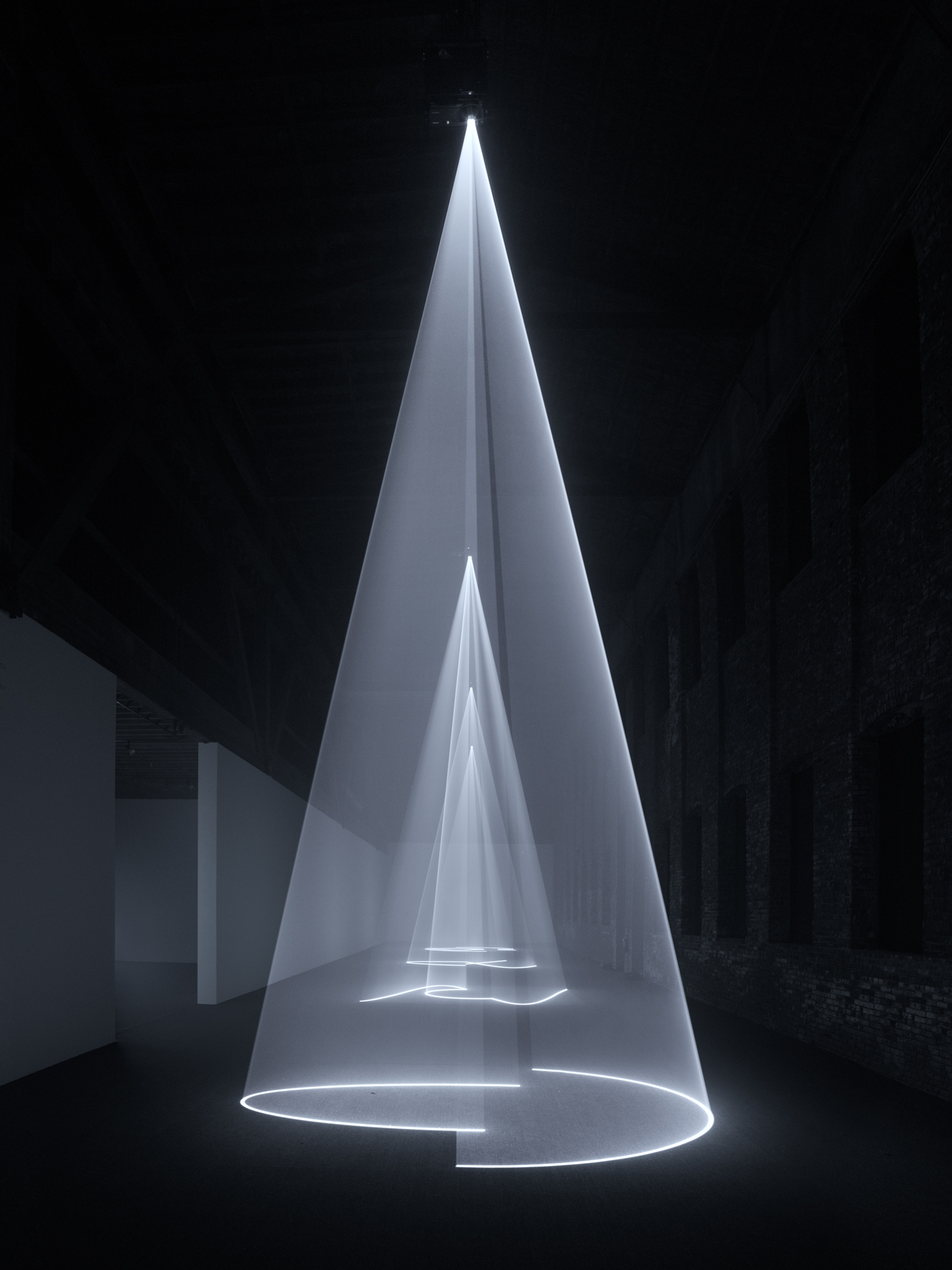 The vertical solid light works, in particular, investigate the possibilities of sculpture. The overall conical shape, monumental in height, acts as a solid form; the line drawing projected onto the floor furthermore suggests a simple maze-like system inviting exploration (similar to Richard Serra's massive steel ellipses). Walking effortlessly through the permeable walls, however, reminds the viewer that the installation is not a permanent structure but rather a product of light. Further destabilizing the viewer, the projector illuminates the haze, which is constantly in motion. These works, alongside their horizontal variants, transcend the boundaries between film, sculpture, and drawing, and, moreover, they encourage the viewer to explore further possibilities between different media.
Solid Light Works: Anthony McCall is on view at Pioneer Works in Red Hook, Brooklyn through Sunday March 11, 2018.
—Austin Yoon, Curatorial Intern, The Drawing Center