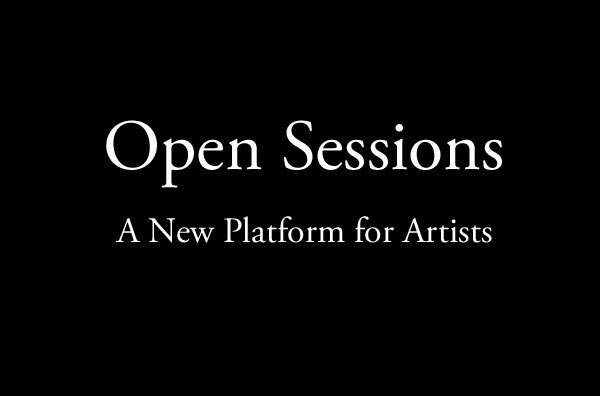 The Drawing Center is pleased to announce Open Sessions, a new program created by Lisa Sigal and Nova Benway, Open Sessions Curators. Open Sessions is a platform for selected artists to find new approaches for contextualizing and exhibiting their work, through conversation, public programs, and gallery installations. For a thorough description of the program and application details, visit our website.
We've been getting some great questions about what Open Sessions is and who can apply. Here are a few. Add more on our Facebook page!
I am a musician/poet/dancer/scientist/etc. Can I apply to Open Sessions? How could I benefit from it?
We welcome applications from any and all disciplines. If your work would benefit from a conversation about drawing – as a practice, tool, metaphor, theme, etc. – we encourage you to apply. For further information about what kind of interdisciplinary work is possible at The Drawing Center, please look at our past exhibitions and blog at www.drawingcenter.org. 
I don't live in New York. Can I apply to Open Sessions?
We will be accepting artists into Open Sessions who are able to be in New York for only part of the two years. For different artists, that may mean a few weekends, or a few months. Dates for each event are not yet set, but the program is quite open-ended and will include conversations, workshops, panel discussions, and installations of work, so artists not based in NYC who are interested in participating will have multiple options for doing so. Also, no single event or program is required, so artists are welcome to participate around their schedules. If you are interested, we hope you will apply.
How do I know if my work is appropriate for Open Sessions?
Drawing is a medium that encompasses the most venerable traditions of the art studio, as well as experimental and interdisciplinary practices. We hope Open Sessions will bring together a range of ways of thinking about drawing, from the traditional to the eccentric, from formal to conceptual approaches. Simply put, if this exploration interests you, we hope you will apply. Open Sessions is a new program whose parameters will be defined by the participants.
Is Open Sessions a residency program?
Open Sessions is different from a residency. We do not offer studio space, and Open Sessions events will be occasional (approximately every other month), rather than time-intensive. Rather, we open the doors of The Drawing Center as a space for participants to plan occasional conversations, public programs, and installations of their work. We hope to provide an opportunity for artists of all backgrounds to think together, without taking away from time in the studio.
Is there a fee for Open Sessions? Is there a stipend?
There are no fees associated with Open Sessions. We regret that there is no stipend for artists joining the program. We understand that this can be limiting for artists not based in New York City. As stated above, we welcome participation in a variety of forms. If you have a proposed way of engaging with Open Sessions from afar, we encourage you to submit it.
What materials can I submit with my application?
We are interested in whatever materials best characterize your practice. Some examples include: videos of performances or lectures; chapbooks; musical scores; audio files; schematic drawings used in architectural or scientific contexts. We welcome a very broad range of examples of your work. When in doubt about whether materials can be uploaded to Dropbox, you are welcome to mail materials to us. No emails please.
Can names or examples of other artist's work be included in my application, for context?
You are welcome to name artists who have influenced you or with whom you have collaborated, if this gives a sense of your practice. However, we ask that your images and other application materials consist only of your own work (or work made in direct collaboration with others.)
Can artists apply together?
Applicants are welcome to apply as a collaborative team.
Can an applicant be over-qualified?
No. We welcome applications from anyone who is interested in the opportunities afforded by Open Sessions.
Is Open Sessions open to applications from students?
No. Open Sessions is an opportunity for dialogue, and we assume students receive this from their academic program.
Does Open Sessions specifically target emerging artists?
We hope Open Sessions will appeal to a wide cross section of artists at many different stages of their careers, reflecting the range of artists working with drawing.
Can I apply to be an Open Sessions Fellow?
We are not currently accepting applications for Fellows. 2013/14 Open Sessions Fellows are: Kamrooz Aram, Nathan Carter, Emilie Clark, and E.V. Day. The current application is for participants in Open Sessions only.
What kinds of "collaborative events" will take place in Open Sessions?
Open Sessions participants will work together with Open Sessions curators to organize events based on the application proposals.  These events might include studio visits, organizing a seminar or a performance, building an object, and finding additional partnering groups/ institutions for added exhibition opportunities. They are not workshops or classes in the traditional sense, but rather loosely organized opportunities for deeper conversations about drawing.
Is every public program tied to an exhibition?
No. Installations of artists' work may be presented separately OR in conjunction with other events.